LottoSpring Exposed — Why Not Try Your Luck with the Syndicates with an Added Value?
LottoSpring Review
Now for something a little different. LottoSpring offers syndicates with added value that use the official EuroMillions lottery numbers to play their own three games. Players' monthly subscription does not only offer a split on winnings but also kickbacks on referrals. Are you feeling confused? Don't be – their terms and conditions lay it out very clearly with lots of ways to win.
Games at Lottospring.com
LottoSpring has three of its own homegrown lottery games. LottoSpring's Mega 5 is played every Tuesday for a jackpot of €5 million. Mega 10 is played the first three Fridays of each month for a jackpot of €10 million. Mega 50 is played on the 4th Friday of each month for a mega jackpot of €50 million. The winning numbers come from the official Euro Millions draw. LottoSpring uses a European insurance company to ensure players' winnings – especially for the jackpot.
How Does It Work?
This is a site that offers a combo of winning through being part of a syndicate and on the ticket number that you pick to put into the syndicate. Players pay a monthly subscription to play. Each syndicate is made up of 50 players (or less if it closes before the draw). There are 13 prize piers, with the 4th to the 13th paid the face value as stated in the terms and conditions. For the three top prize tiers, winnings are divided so that whoever picked the actual ticket wins 20% and the rest is paid to the syndicate winners. Well, it's not quite that simple with some of it going directly to the player's account and some to their "upline account".
Bonuses, Referrals and Other Ways to Win
A player's upline account refers to winnings set aside to pay the person who referred them. That's one of the bonuses that add to this game. If you refer someone and they win, you get a percentage of the winnings. Usually, this would mean that they are in a different syndicate hence more ways to win! If a player refers three friends – and they play – the membership subscription is also refunded each month as long as they play. Then there are the blitz points that players can earn to get more tickets!
Getting Your Winnings
Winnings are deposited into your player's account once LottoSpring receives it. Players who win in the top two tiers need to complete a form for the insurers. Players can withdraw winnings over €30 though they suggest "100 units of the relevant currency" is a better threshold. If they need to convert any currency (like winning Euros to USD), fees/charges might apply.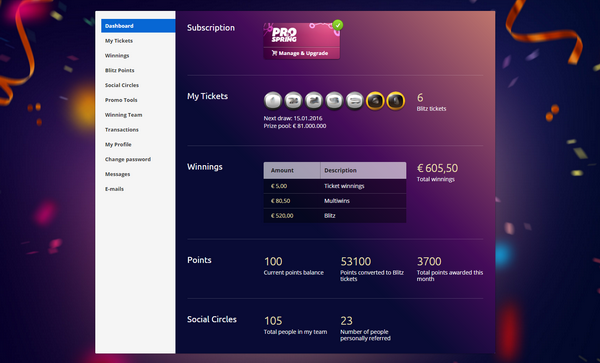 Who Can Play at Lotto Spring?
Players have to be "over the legal age for gambling in their country", working for or have an interest in a Bookmaker/Operator company, have one registered account with Lottospring.com and register themselves for real. People who are in and/or a resident of Afghanistan, Burundi, Central African Republic, Conakry (Guinea), Congo, Cote d'Ivoire, Eritrea, France, Guinea-Bissau, Haiti, Iran, Iraq, Laos, Myanmar, North Korea, Sudan North and South, Syria, United States of America and Yemen cannot play here.
Who Is Lottospring.com?
Now these guys are truly international. LottoSpring is traded by the Nexus Group International Limited out of Tortola in the British Virgin Islands, operated by Kootac NV out of Curaçao, with Kootac Trading Ltd out of Malta handing their payment and customer services. There is a snail mail address for each of their companies, plus email for contact details. You can also keep up to date with Lottospring.com through Facebook & Twitter.
Would you mind rating LottoSpring.com?
The Bottom Line

The idea of being able to win not only on the syndicate you go into but also through other members' syndicates is cool. Add to this, if you refer just three players, your monthly membership is free. Nice to see something different!
Pros:
13 Prize Tiers
Good Jackpots
Added Winning with Referrals
Refer Three Friends and Play for FREE
Cons:
Jackpots are Fixed Amounts/Don't Grow
Syndicates Means Sharing
This site gets a thumbs up. We're looking forward to hearing from players on how much they win!