Florida Lottery Exposed — Grab Your Ray of Sunshine!
Florida Lottery Review
When a person first thinks of Florida, it's a combination of sunshine, beaches, Mickey Mouse, and pink flamingos! Okay, I also think about golf, and there are some of the best courses in the world down there, but there is always the question of where am I going to get the bucks to do it. The Florida Lottery has done all they can to make those dreams come true. Flalottery.com offers a wide selection of different types of lottery games from the big national jackpots through to $1 Scratch-Offs. It's all there to give everyone a chance. It's not limited to Floridians or US citizens. Anyone can play. So let's look at their games.
FL Games! Games! Games!
Florida State Lottery hosts the usual Mega Millions and Powerball. Flalottery.com's games include Florida Lotto, Fantasy 5, Lucky Money, plus a variety of Scratch-Offs. There is also their second chance for their Scratch-Offs which can be registered online.
Florida's Lotto
Florida's Lottery is played Wednesday and Saturday. It's very straightforward with players choosing 6 numbers between 1 and 53. There is no super ball or bonus ball, but they do have an added value. For US$1 per lottery line more, the XTRA play multiples the non-jackpot prizes from 2, 3, 4 or 5 times the original amount. This is randomly chosen for each game. An example on the last draw, 50 people correctly chose 5 of the 6 numbers drawn and won $4,198.50, but 10 people with XTRA won $8,397.00. That prize was doubled. Alternatively, 56,832 people who correctly chose 3 out of 6 numbers and won $5 but 10,718 people chose XTRA and won $25 – the prize was multiplied by 5.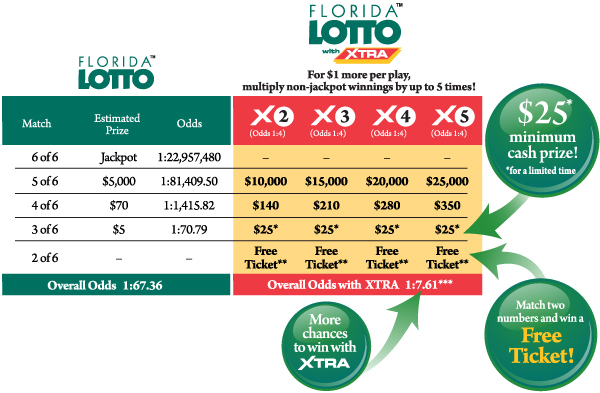 Mega Money at Flalottery.com
Florida Mega Money is played Tuesday and Friday with a jackpot starting at $500,000. It rolls up as long as there is no big jackpot winner to $2 million at which point it rolls down, increasing the size of winning to all other prize tiers. To play Mega Money Florida, players choose 4 numbers from 1 to 44, and one Mega Ball number from 1 to 22. Florida Mega Money Lottery pays out on eight tiers.
Prizes that Roll Down Instead of Up
Lottery FL has a cute game played daily called Fantasy Five that doesn't roll up but rolls down – in the best way. With a jackpot around $200,000, if there isn't a top winner (that's 5 out of 5 balls correct), then the jackpot rolls down to 4 out 5 correct or 3 out 5 correct. It also has an EZ Match feature that is an instant win.
How To Get Your Money at FL Lottery
It's pretty straightforward for prizes less than $600. These can be claimed at any Florida Lottery retailer. If you are playing online, then this will be automatically credited to your account. For prizes from $601 to $250,000, wins can be claimed at any Florida State Lottery district office or Florida Lottery Headquarters in Tallahassee. Any prize over $250,000 awards must be requested at Florida Lottery Headquarters within 180 days of the draw.
Scratch-Offs have their own set of rules with specific dates that apply to start as short as 60 days after the end of the official game. Some folks try and monitor the number of Scratch-Offs sold per game and buy more and more tickets as the game is coming to a close.
Annuity Versus Cash Option
Lotteries at Flalottery.com offers two options on getting your big jackpot – an annuity or cash option. Florida Lotto and Powerball are paid out over 30 years, FL Mega Millions over 26 and Florida Mega Money over 20 years. If a player opts for the cash option, then the amount of the jackpot won is (remember I am not a mathematician) less than the published jackpot. The amount published is based on the accrued value over the term of an annuity. Sounds confusing? It's not. It still means winning a pretty colossal jackpot!
But I'm Not American
Players can be from anywhere. There is no restriction on residency, and they are clear in their prize claim rules and regulations that everyone is welcome. Just keep in mind that there are both state and federal taxes applicable.
Customer Service & Flalottery.com
The Florida Lottery offers a variety of different ways to contact them though it is only during business hours EST 8:00 am to 5:00 pm. There is the usual snail mail address, as well as telephone and fax (do people still use fax?). There is also an online form though no direct email addresses.
Who is the Florida Lottery?
This is a state-run Lottery governed by the Inspector General. It was set up to support education in the State of Florida. Each of the lotteries offered has different percentages of how much goes to the state and how much goes to prizes.
Would you mind rating FlaLottery.com?
The Bottom Line at Flalottery.com
Florida State Lottery offers some great games. I particularly like the Florida Fantasy 5 which is played daily and rolls their jackpot down to 3 out of 5 numbers if the jackpot isn't one by 5 in 5 or 4 in 5. It certainly increases the odds of winning. Florida Lotto also offers some great mega prizes with some excellent odds.