Luckydays.tv Exposed — The Author of This Software Sends Threats to Lotto Exposed Team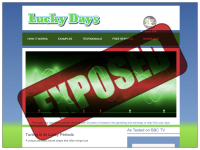 Luckydays.tv Review
Wouldn't we all like to like to know what is going to happen! Even better, what about the days that we are going to be luckier! Luckydays.tv software says they offer that. This software is supposed to identify the days that a player will be personally lucky in a lottery. It doesn't identify unlucky days or anything else that standard astrology charts provide. It pads this with a heap of testimonials that raised my eyebrows. Let's take a look at Luckydays.tv!
Luckydays.tv Home Page
On the main home page of Luckydays.tv, Adrian (the author of LuckyDays.tv) refers to the 'Dave Gorman Important Astrology Experiment' as a testament to how well this software works. On the show, Dave follows his horoscope for forty days, and his fraternal twin (twenty minutes younger) does not. This show aired on the BBC TV2 back in 2002. Adrian claims that Dave won money, and his twin brother did not base on betting on his lucky days.
Software & Luckydays.tv
Astrology software has been available for a while. Luckydays.tv software only goes so far as to identify days that are particularly lucky for a player. Good astrology software goes a lot further. It would be pretty awful if you had a lucky day and won a jackpot, and the next was a very unlucky day, and you walked in front of a moving bus. If a player is going to go the astrology route, then go for the whole thing.
The Stars
I'm not going to go into a massive explanation of the different kinds of astrology charts and how they have been used to predict various events. In the western world, astrology takes into consideration your time and location of birth and compares it to the positions of the sun, moon, and other planetary objects. The goal is to identify aspects of a person's personality and predict future events.
Your Numbers But the Stars Didn't Say Lucky Day
I can't imagine what I'd feel like if I was playing specific numbers regularly, depended on Luckydays.tv software to tell me which days to play, and then my numbers came up on a day that wasn't a lucky day.
Luckydays.tv's Site
Using Luckydays.tv software isn't limited to winning lotteries. The site itself provides an explanation on casinos, horse racing, stock markets, sports betting, Texas Hold'Em as well as lotteries. It also links to some other software programs that claim to increase your odds. Adrian also provides several pages of an explanation on how he got to the solution of his Luckydays.tv software to improve his capability in winning.
Adrian and Luckydays.tv
The only information on who Adrian is is a long explanation of why he developed this software and what it has done for him. The only contact is a Gmail address. There is no phone number, no address, and I am guessing he does not live in Tuvalu.
Tuvalu and Luckydays.tv
The "tv" domain address was set up by Tuvalu as an income generator for the island. A deal was signed with a private company that provides a US $1 million payment quarterly to help the island nation out financially. Given it has a population of about 11,000 people, this is a good little money maker; better than setting up a lottery which so many governments have done.
Purchasing Luckydays.tv Software
For the sum of $79, you can have Luckydays.tv software. It runs info from 1920 to the current date. But to run reports up to the year 2050, an additional registration code is needed. It also says, 'you will receive your first registration code when you sign up' but need to get additional registration codes in the future to unlock the software. It doesn't say whether there is an additional cost for any of this.
Would you mind rating Luckydays?
No Luck at Luckydays.tv
Good astrology charts (and yes, I have had mine done), provide a heap of other information which includes a person's lucky days. If you are interested in astrology, then there are a lot of better options out there. Luckydays.tv identifies your supposed lucky days.
I also get a little nervous downloading a system that is going to get me to go back into their website regularly. What else am I sharing, and/or what else have they installed? For me, the buck stops there.
Update: The author of this software is regularly sending threats to Lotto Exposed Team. Though we removed customer reviews, he proved to be fake; he continues bombing us with nasty comments and new requirements. We work under Section 230 of the Communications Decency Act. In our experience, only dialogue in a friendly tone between companies and reviewers is the best way to resolve any issues.