Beauty is in the Eye of the Lottery Ticket Holder, or Is It?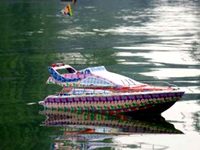 Ghost of a Dream
Have you ever wondered why lottery tickets are always printed on pretty colored paper? Maybe it's so that the ticket holder can tell the difference between their lottery ticket and a random piece of scrap paper, or maybe it's so that people can at least create beautiful artwork with the losing tickets. Hey, all those losing tickets should be at least good for something right? Why not create art with it!
Actually, the lottery ticket is quite the art medium. For two Rhode Island School of Design Graduates, Lauren Was and Adam Eckstrom, it proves that just because the lottery ticket is a loser doesn't mean it can't be valuable.
The Team behind Ghost of a Dream
The married couple did a fascinating interview with Untapped Cities where they discussed the motivation and inspiration behind their Ghost of a Dream: Dream Vacation series. In the series, the artists take thousands of dollars' worth of used lottery tickets to construct a particular dream.
The above piece is entitled "Dream Vacation" and the couple estimated that it would take approximately $29,000 for you to take your family on a dream vacation. The entire piece is covered in used lottery tickets.
The above installation, called "Dream Home" used $70,000 worth of lottery tickets alone! The couple has also taken to covering luxury vehicles in the discarded tickets.
They covered the "Dream Car" (the Hummer) in $39,000 worth of discarded tickets. No dollar amount was given for "Dream Ride".
Also in the Untapped Cities article, it shows their "Price of Happiness" wall mural that is featured in the No Longer Empty exhibition which was held at the abandoned Bank of Manhattan. The installation was meant as a commentary on the housing issues both the American people and the citizens of China were currently facing at the time in 2011. The installation was comprised of our losing lottery tickets and the Buddhist afterworld money.
You can view more of the couples' work at Ghost of a Dream.
Discarded Tickets
In stark contrast to Ghost of a Dream where the artists combine the lottery with people's dreams, one artist reminds us that scratch offs are just trash.
In the span of two days, David Jelinek's luck seemed to disappear. First, he and his wife decided to divorce and that very weekend, a car hit him while he was trying to flag down a taxi. As a result of the accident, he lost all hearing in his right ear and a large amount of spinal fluid and spent the next ten days recovering in the hospital.
When he was released from the hospital, he noticed a crumpled lotto scratch off on the ground. Since then he has begun collecting discarded scratch offs. So much so, he was able to fill 3 suitcases.
From there, he created the installation entitled "Money Down" which was displayed at the Andrew Edlin Gallery in 2013.
I, myself, don't see this as artful… Just garbage in a room. But, who am I?
Slick Oil Paintings
Another artist who turned to the world of lottery for inspiration is Hugo Kobayashi. His work was featured in the Hang Art Gallery in September of 2010. The installation was called "Nothing for Something" and featured 16" x 32" oil paintings of crumpled lottery tickets and scratch offs.
You can view more of his work here.
Inspirational Lotteries
Who knew lotteries could be so inspirational to the art community. Whether it is speaking out on social problems or reminding us that lottery tickets can be more of a waste of money than they are worth, there is one thing to be gathered from these artists—people are attracted to the neon colors and the allure of just the possibility of winning copious amounts of money. With that kind of appeal, the lottery is not going away anytime soon.