Lotto Variant System Exposed — Even Winning Cheques Are Copied!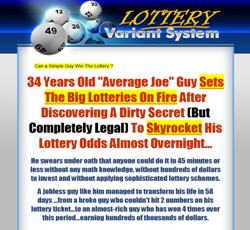 Lotto Variant System Review
In investigating different lottery software systems, I'm usually prepared for the ridiculous. Lotto Variant System took it to a whole different level. I'm having a hard time sitting here continuing to type. This isn't another lottery software that promises big wins. These guys ask the question "Can a simple guy win a lottery" and claim they know the answer. I'm here to tell you they don't!
How the Lotto Variant System Works
At first glance, how Lotto Variant System works is a very good question. Getting past all the claims of winning is a challenge. After scrolling down through all the spiel, I still don't know how it works. Lotto Variant System claims it only takes 45 minutes to read through their instructions to be a winner. I'm just not silly enough to click on purchase to find out!
Essentially, there are six steps that people need to follow, and it all begins with getting your hands on his system. I'm not 100% sure whether he means that literally and you need to touch the Lotto Variant System (like touching the blarney stone) or if it's just a manner of speaking.
Lotto Variant System Complaints
There are not many negative reviews about this Lotto Variant System for the simple fact that there are not many reviews about this specific software. Those reviews that exist have been conducted by guys that have reviewed dozens of similar software dismiss this one as a pile of garbage.
My complaint is that the site is an eyesore with no information. I know primary school kids that could have done a better job at putting together a website.
Is the Lotto Variant System Worth your Money?
I thought I'd calmed down when my laughter meter took another burst. According to this guy, the lotteries are frightened off Lotto Variant System. He (supposedly) is harassed and threatened by the lotteries who are ready to do anything to prevent him from spreading the word. But as the brave crusader that he is, he will stop at nothing to get the information out there.
In a typical hype attempt, he says that though the initial price was $500, he will sell it now for only $100. We are all reluctant because the price drops again so for a very limited period you (or me) can get the application for the small amount of $67. We would be crazy not to take advantage of this unique opportunity. Let's say that this is not going to happen.
Would you mind rating Lotto Variant System?
Our Unbiased Conclusion
By now, you should have a reasonably good idea about what kind of BS these guys are trying to sell with the Lotto Variant System, and you will stay away from it. If you feel ready for a good laugh, visit their official website. Check out the guy's face as it is priceless. Frankly, I've had enough, and if I never hear about this lottery software again, it will be too soon.