Beat the Lotto Exposed — Pre-Launch Every Day!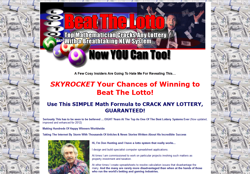 Beat the Lotto Review
People who sell lottery software somehow believe that if they present themselves as mathematicians, people will be more inclined to trust them and buy the application. Beat the Lotto is such a case! The guy marketing it goes by the name of Don Hunting. Even though he is offering what he says is the best way to beat the lotto, he still is working. Guess that means a lot! So, let's see what else he says.
How Beat the Lotto Works
The author begins with a heartwarming story about how he designs and builds spreadsheet applications. He claims he has worked out a system that will beat the lotto (no pun intended). His system doesn't even claim to use past results but can choose the sufficient numbers for specific lotteries to ensure a win. Don illustrates this with a list of potential wins referencing particular dates. He doesn't show the numbers he chose so there is no way to verify this claim! It's quite amateurish especially when we're speaking about a mathematician who is in love with numbers.
I dug deeper to see if I can figure out if Beat the Lotto offers anything else. There is information on basic equations and a bunch of strings of numbers that have little meaning. The goal was to hide the fact that Beat the Lotto is nothing more than software that interprets past results and uses hot, cold and due numbers in some wheels that are useless in predicting future results.
Beat the Lotto Complaints
When searching for complaints, I was expecting a string of disgruntled customers arguing that the application is useless and the promises are nothing more than hype. Surprising enough, I stumbled upon a very different type of complaint about Beat the Lotto written by a customer who accused Don of dishonesty.
It was published in two places, at Beat the Lotto Complaint [the complaints board] and then again on this other website Beat the Lotto Complaint [scam.com]. The message is identical and the customer accuses Beat the Lotto of refusing to answer his e-mails and give him a guaranteed full refund.  Worse, when a customer clicks on 'Contact us' the link takes you to Gauk Auctions Support Center. This is an online auction site.
Is Beat the Lotto Worth your Money?
Our team has researched a heap of different software options for short cutting winning lotteries. This one isn't even as inventive as some of the others out there that are happy to take your money for no results. For the price of $79.95, you can own this software. But there's more. Until midnight tonight (yes the date changes every day so it is always today), you can have Beat the Lotto for the pre-launch bargain of $39.95 plus the pick-5 free bonus. Given that our team has been monitoring this site for some time, it is sad that it continually uses the term 'pre-launch'.
Would you mind rating Beat the Lotto?
Our Unbiased Conclusion
No matter how much you like mathematics and how much you might want to believe that Don Hunting is indeed a smart guy, his system and his numbers simply don't add up – unless you are Don taking your $39.95 to the bank. Beat the Lotto might be a software that plays with numbers but that's about all the play anyone is going to get.